Approval process: study in Canada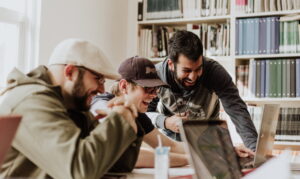 S
tudents planning to start school in Canada have fewer barriers to travelling than the previous two years. Immigration, Refugees and Citizen Canada (IRCC) has reverted to its usual procedures in issuing study permits by issuing an approval letter and a temporary resident visa (student) for travelling to Canada.  Students, upon arrival at a port of entry are  subject to an examination by the CBSA, whereupon they can be refused entry, if it is found that information is questionable, or not bona fide. After examining a student and once  the officer is satisfied,  a secure document, referred to a "study permit" is issued, bearing the issue and expiry dates.
To resume their programs and restore revenue generation mechanisms, educational institutions have developed on-line studies  as part of their offering to students, both local and abroad. Recognizing the lengthy processing periods for study permit applications, students must begin their groundwork on obtaining key documents in their respective countries  for their applications, months ahead of their  semester start dates. And more importantly, students must contact us for assistance as soon as they make a decision that they want to come to Canada to study. We will provide advice, insight and guidance on the process.
What students need to know
This pathway to obtaining a study permit is available to certain students  in certain countries. Typically it takes 20 days to process to final decision, but may take  longer, depending on circumstances.  To apply through this stream, see the drop-down sections below for what you need.
The Student Direct Stream: List of countries
To qualify, you must be a legal resident living in one of the following countries:
Antigua and Barbuda
Brazil
China
Colombia
Costa Rica
India
Morocco
Pakistan
Peru
Philippines
Senegal
Saint Vincent and the Grenadines
Trinidad and Tobago
Vietnam
What must you have to be eligible to apply?
The program is very specific. You must:
Have an LOA (Letter of Acceptance) from a post-secondary designated learning institution;
Live outside of Canada at the time of applying;
Show evidence of having paid tuition fees for the first year of study;
Have a Guaranteed Investment Certificate (GIC) of CAN$10,000 in the student's name;
Take an upfront  medical examination (if you need one);
Obtain a police certificate before you apply (if you need one);
Have your most recent secondary or post-secondary school transcript(s);
Have a language test (IELTS or CELPIP) result that shows either;
Have an International English Language Testing System (IELTS) academic or general training score of 6.0 or higher in each skill (reading, writing, speaking and listening), or CELPIP level 7 in each skill;
Obtain a Test d'évaluation de français (TEF)  score that is equal to a Canadian Language Benchmark (CLB) score of at least 7 in each skill (reading, writing, speaking and listening).
There are many institutions that provide instruction in French, so depending on where you want to study, we can advise you on which language test you may take.  As well, if you are concerned about how you can obtain a GIC, please contact us so we can provide advice.
Work while you study
As of November 2022, certain students studying in Canada may be eligible to  work for more than 20 hours per week. Rules that relate to students working while they are  enrolled and attending full-time studies  were recently relaxed to allow students to participate in the workforce for as many hours as they wish. This is a temporary measure aimed at addressing labour market issues in Canada while providing students with  employment experience, skills and income.
Post Graduation Work Permit (PGWP)
International students studying in a Canadian institution can look forward to a obtaining a post graduation work permit (PGWP as soon after they complete their studies.  This is an open work permit which allows students to obtain valuable work experience  in their field of study and contributes to their ranking in the immigration system.  The length of a PGWP depends on the length of studies completed by the student.
Well known and acknowledged among students is the clear pathway to permanent residence that the PGWP facilitates, provided that their Canadian work experience qualifies under specific rules of the Express entry management system. Well known and acknowledged amongst students, is the clear pathway to permanent residence that the PGWP facilitates, provided that their Canadian work experience qualifies under specific rules of the Express Entry management system.
Students who complete their entire program on-line  through distance education, are not eligible for a PGWP and are not given comprehensive ranking points for "Canadian Education" in the Express Entry management system.
Travel to Canada
The Canadian border is once again open for non-essential travel. Students can now travel to their Canadian destination to either continue their studies, or start working.  If you are such a student who wishes to take this opportunity to start your studies in Canada, contact us now for assistance. See the Help in three steps box on this page.
Upper Canada Immigration will help you prepare a successful package of documents. The minimum set of documents you need to have in hand for us to start working on your application includes:
Letter of Acceptance;
Proof of funds for the first year of studies;
Rationale for your choice of program (background or training)
Study plan;
Demonstration of your ties to your country of residence/citizenship;
Evidence of any ties to Canada.
Take the process seriously
A study permit application goes through a highly-competitive process. Complete applications with a sound rational and bona fide evidence will be successful.  To make such a submission, you will likely need help from us. Allow us to help you take this all-important stem in your life.