Frauds and scams
V
ulnerable newcomers to Canada, and residents who don't know 'the system' have long been easy prey to the unscrupulous. This page should help you identify the more common types of fraud perpetrated on people living in Canada on their path to citizenship, and those in their home country hoping to reach Canada legally and ethically.
The fake IELTS certificate
In early 2021, we began to receive e-mails from a vendor offering this: "You don't have to worry if you can't pass in the IELTS exam, for we are here to issue you this certificate without constrain. We make it possible for you to get the IELTS certificate even without appearing for the exam or even if you have failed to pass in the exam with us you can obtain a genuine IELTS certificate. All our IELTS certificate for sale are verified."
At least they are up-front about selling a counterfeit IELTS certificate. Whoever wrote this nonsense could not themselves pass the written part of the IELTS test with English grammar like that. We trust that if you get this type of message, you will not be dumb enough to fall for it. Like all documents an applicant submits with his or her application, your International English Language Testing System (IELTS) documents are always verified, and this type of brazen scam won't survive for a moment!
What a fake document means for you
Uttering a forged document is a criminal offence in Canada, contrary to section 368 of the Criminal Code. It is a hybrid offence, which means that it can be prosecuted summarily (less serious) or by indictment (more serious). Individuals convicted of this offence can face sentencing in the form of fines, probation, restitution, and even jail. The bottom line: don't even think about it!
What we did with the information
We reported this scam to the authorities, the government, the IELTS organization and the media. We are confident you won't be stupid enough to send money to whoever is perpetrating this type of fraud.
The IRB fraudulent caller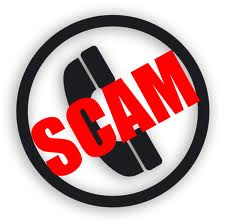 In April 2019, the Toronto Star reported on a telephone scam aimed at newcomers to Canada living in Canada. The article quoted an Immigration and Refugee Board (IRB) warning about telephone calls in which the caller claims to be a representative of the IRB. The person called is told (incorrectly) that he or she is under investigation, and owes money. The caller's phone number is 'spoofed' to look as if the call is coming from a body such as the Immigration and Refugee Board, or the Royal Canadian Mounted Police (RCMP).
The Star article states that in 2018, more than 22,000 people received such extortion calls. This type of fraud is ongoing. The callers generally stated that they were with the IRB, the RCMP or the Canada Revenue Agency (CRA). Some 1,500 people are reported as having fallen victim to such a scam, and handed over an estimated $6.4 million, said the Canadian Anti-Fraud Centre, a Canadian body jointly managed by the RCMP, the Competition Bureau, and the Ontario Provincial Police.
The criminals placing the call try to demand payment in ways that ought to be an automatic tip-off to their illegal intent: cash; bitcoin or other virtual currencies; even iTunes or Google cards. Some demand payment on the spot. Others say a car will be sent to your home within minutes to either collect payment, or place the person called under arrest. (Relax, that won't happen.)
No Canadian government agency, no Canadian electrical or gas utility, and no Canadian police force ever, under any circumstances, calls people on the phone and demands money. The act of placing such a call is a federal offense in Canada, and the callers are committing a crime each time they call. The callers, often at phones outside Canada, are very aggressive. So must you be if and when they call.
If a fake IRB or similar call happens to you, immediately hang up the phone. Don't engage the caller. Report the fraud attempt to the Canadian Anti-Fraud Centre at 1-888-495-8501.
Since tracking of such fraud attempts began, 2018 was the second-highest year on record for extortion fraud from fraudulent tax and immigration agents.
The Canadian 'visa lottery' scam
In 2018, our firm received inquiries from individuals all over the globe, and particularly from Africa, about something called a new Canadian Visa Lottery Application. It purportedly allowed applicants a chance to come to Canada on a permanent resident visa. We reviewed the posts and links that people sent with Canadian Visa Lottery Application Form 2017/2018 and Canadian Visa Lottery Application Form 2018/2019. This is a scam.
This Canadian Visa Lottery scam is a deliberate attempt to mislead people using the web. It is a fraudulent attempt to obtain your personal data, obviously with criminal intent. Beware of any posts and websites that tell you there is a chance to 'win' permanent residency in Canada through a lottery-type system. The Government of Canada has no such program or initiative. Any claim to the contrary is bogus, and constitutes fraud.
The computer 'tech support' scam
You get an unsolicited phone call. The caller claims to be from Microsoft (or Google, or Apple), and that they are calling to alert you to a problem with your computer. There are a range of such scam calls. Scammers will usually claim that there are security issues with your device. For example, they may tell you that there is a virus or threat on your computer (or your laptop, or your phone) or that your computer's e-mail program is sending out viruses, or that you are in danger of losing your personal data.
The scammers often request remote access to the device and will pretend to run a diagnostic test. They then try to sell you a repair service or anti-virus software. In the end, you pay for a service that was worthless and not needed as the computer was never infected.
Don't get fooled by the phony tech-support extortion. Just hang up, and follow the reporting process suggested above.
Windows does legitimately have a function that allows remote access to a computer. It is turned off by default. It is not that easy to turn on. Unless it is you that has called Microsoft, or unless you work for a firm that has on-site tech support, you will never need to turn on remote access;
On at least a monthly basis, make a backup of your hard disk. Get a USB device, and use the File History function to back up your files to the USB hard disk. Then, until the next time you back up your files, unplug the hard disk, and keep it stored away. In the event that something happens to your computer, you can use Windows File History to restore your files to the point of your last backup;
Needless to say, none of the major computing and software companies has people calling their users to demand money. As with the IRB scam, it is common for the scammer to demand payment in virtual currencies such as bitcoin, or to demand the use of prepaid cards of various types.